https://youtube.com/watch?v=CCqsT59F_xg&feature=share
This video is an offering, by Param P. Tomanec, to the aspiration to restore a full peace, harmony and calmness in Northeast India and beyond, through a single art form called cinema with its unique ability amongst all the other art forms (literature, music, painting, sculpture) — to unify light, colour, movement, time, space, poetry and sound.
Footnote:
Recorded at Iskcon IMPHAL_Sri Sri Radha Krishna Chandra Mani Mandir Manipur and Radha Govinda Temple, Imphal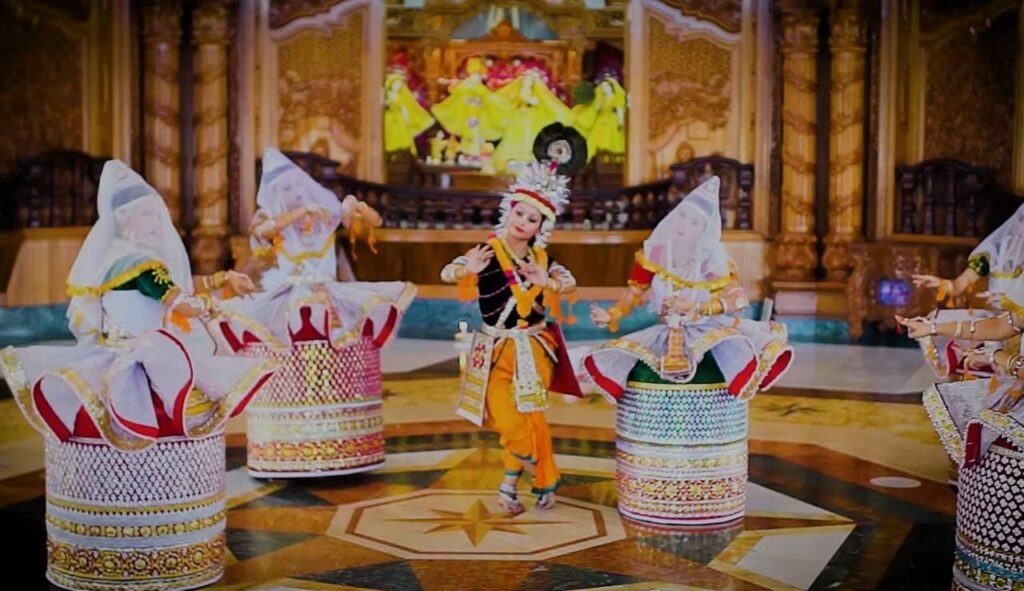 Hare Krishna Maharajas, Prabhujis and Matajis,
Please accept my humble obeisances unto the lotus feet of you all. All glories to Srila Prabhupada.
Through the medium of this mail, I would like to humbly seek blessings and support from all the devotees. As the communal riot has erupted in Manipur on 3rd May 2023 and it is still continuing with a death toll of more than 100 in official records but fear to have crossed 400, displacements of more than 50,000 people and above 3500 houses burnt down. The internet connectivity also has been barred in the state since then except some government offices.
The situation is very grave that it has brought lots of hardship and difficulties in the state. Functioning of the maximum of the private and public firms have been paralyzed badly. Everyone is tense and fearful of their lives. Many Hindu temples and Christian churches were burnt down in the conflict. Curfew has been kept on imposing since 3rd May. Some of the devotees' houses were also burnt down in the conflict. Everyone in Manipur is affected greatly by the riot.
Among the worst affected would be our temple, Sri Sri Radha Krishnachandra Manimandir, ISKCON Imphal as the temple has been going through a low phase from quite a time. The temple is not able to get regular source of income from donations of its well wishers particularly during this time.
Consequently, it has become really difficult to continue with all the essential services of Their Lordships due to lack of funds. Devotees' mindsets are also greatly disturbed by the ongoing riot. There is fear that at any moment our temple also may be targeted.
In such a situation, I, on behalf of all the devotees of ISKCON Manipur, am seeking blessings from the devotees so that we may remain strong. Please pray for the devotees in Manipur so that they are not gone through any trouble. I would humbly request our family of Srila Prabhupada to kindly bless and support us at this time of grief and need. We shall remain ever thankful and grateful to you for all your support, kindness and prayers.
Thanking you in anticipation.
Your servant
Sadhubhusan Das
Temple President, ISKCON Imphal, Manipur
Mobile Nos. 6009649148 / 8787857343
Email – sadhubhusandas@gmail.com
For devotees desiring to make contributions towards the continuation of seva at Sri Sri Radha Krishna Chandra Manimandir, ISKCON Imphal:
Account Name – INTERNATIONAL SOCIETY FOR KRISHNA CONSCIOUSNESS
*Account No. – 23630100005876
*Bank – BANK OF BARODA
*Bank Address – CHANGANGEI, TULIHAL, AIRPORT ROAD, IMPHAL, MANIPUR – 795140
*IFSC Code – BARB0CHANGA (fifth character is zero)
*MICR Code – 795012003
GPAY account for Indian citizens (Sadhubhushan Prabhu's name shows as 'Thiyam Sanjoy'): +91 87878 57343.

Kamala: Please consider messaging HG Sadhubhushan Prabhu after making your contribution & show the devotees your support, at:
+91 84159 23434 or +91 87878 57343
Email: sadhubhusandas@gmail.com