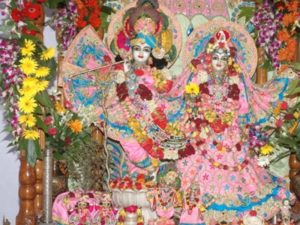 [Translated from Hindi] Updated: | Sun, 11 Aug 2019 09:17 AM (IST) On 23rd August, the first day, there will be a drama competition in the afternoon from 3 pm to 6 pm. For this, one can contact Sulochan Banka, Kanchan Singhaniya, Kanta, Singhaniya, or Vimal Prajapati to get registered. From 7 pm in the evening, bhajans by artists from the Shyam Mitra Mandal Bhatapara will be performed.
On the second day, the 24th August, 4:30 a.m. will be Tulasi Arati, 5:00 a.m. guru puja, 7:30 a.m. Sringar Darshan, 8:30 a.m. Dhoop Arati, 9:30 to 10:30 a.m. a glorification of the childhood pastimes of Lord Shri Krishna, 12:30 p.m. will Raj Bhog and arati, Evening 10 p.m. Chappan Bhog, 12 p.m. will be a Maha Arati. During this will be bhajanas of Vrindavan artist Deepak Bhai Joshi. On the third dai, the 25th August: 4:30 a.m. Mangala arati, Tulasi arati, guru puja, Sringar darshan, 9 a.m. Glorification of Srila Prabhupada, 12 p.m. Raj Bhog offering, 12:30 p.m. prasad, and afternoon 4:15 p.m. Sandhya arati, and 8:30 p.m. Shayan Arati will be held.
[
Click here for original Hindi article.
]