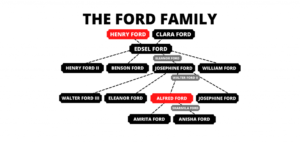 The majority of people associate the name "Ford" with automobiles. However, one of the company's heirs desired to make a change in his own life. He's doing it from his Gainesville home.
Alfred Ford, 71, is the great-grandson of Henry Ford, the American billionaire who founded the Ford Motor Company. In 1950, he was born in Detroit, Michigan, to Josephine Ford, Henry Ford's only grandchild. That was in 1947, three years after Henry's death.
Working for the family business never appealed to Alfred Ford as a child, despite the fact that members of his family, such as his grandpa, Edsel Ford, dedicated their lives to it.
"I've always been fascinated by the great questions." Who am I, exactly? What brings me here? What is the size of the universe? What awaits you on the other side of the cosmos? Who was God, exactly? "How is it that I relate to God?" According to Ford.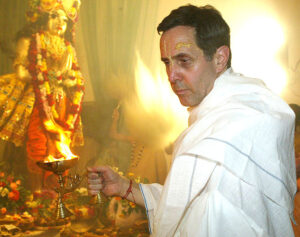 He didn't hear many anecdotes about his late great-grandfather, he claimed. He did, however, know one thing.
"There were two sides to Henry Ford," his great-grandson explained. "One of them was a brilliant scientist, engineer, and entrepreneur. The other was a seeker of truth and a follower of numerous religious paths. As a result, I focused on that aspect."
As a result, Alfred Ford joined the Hare Krishna movement.
The International Society for Krishna Consciousness (ISKCON), also known as the Hare Krishna movement, was founded in 1966. For its millions of members, it now has 500 major centers throughout the world. According to the Hare Krishna movement's official website, the organization "belongs to the Gaudiya-Vaishnava sampradaya, a monotheistic tradition within Vedic or Hindu culture." It is based on the Sanskrit works Bhagavad-Gita and Bhagavat Purana, or Srimad Bhagavatam, in terms of philosophy."
When Alfred Ford was 23 years old, he became intrigued in the movement after witnessing followers chanting on the Tulane University campus, where he was a student.
"I was immediately enamoured with the philosophy," Alfred Ford said.
He was launched two years later, in 1975. His Hare Krishna lifestyle was so different from his upbringing, which included boarding school at the age of 15, that his spiritual guru didn't expect him to give up everything.
"He was well aware that I was accustomed to a particular way of life. And becoming a Hare Krishna doesn't mean you have to give up everything… "You serve with what you have," he explained. "It's fairly straightforward."
Full Article can be read on the following website https://www.wuft.org/news/2021/11/03/meet-alfred-ford-great-grandson-of-henry-ford-and-gainesville-resident/