The world observes ISKCON Gaur Purnima Celebrations
Although there was a low physical turnout of foreign devotees, this year on the occasion Of 535th Appearance day celebrations of Lord Chaitanya Mahaprabhu, traditionally celebrated as Gaur Purnima, due to its availability of International flights.
However, the enthusiasm of the devotees was not marred by their unavailability as devotees connected to this celebration via different online mediums. More than 25 lakhs devotees from more than 90 countries participated in the Maha- Abhishek of Sri Chaitanya
Mahaprabhu held at Global Headquarter of International Society for Krishna Consciousness; Mayapur, Nadia, West Bengal-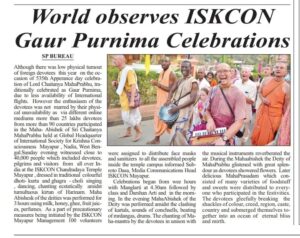 Sunday evening Witnessed close to 40,000 people which included devotees, pilgrims, and visitors from all over India at the ISKCON Chandradaya Temple Mayapur, dressed in traditional color-fill
dhoti • kurta and ghagra – dancing, chanting ecstatically amidst the enthusiastic kirtan Of Harinam.
Maha Abhishek of the deities was formed for 3 hours using milk, honey, fruit juice, perfumes. As a part of precautionary
measures ISKCON Mayapur Management 100 volunteers
were assigned to distribute face masks and sanitizers to all the assembled people.
celebrations began from the early morning hours at 4.30 am with Mangla Aarti followed by class and Darshan Arti and in the morning. In the evening Maha Abishek Of the
The deity was performed amidst the clashing Of kartals, the sound of conch shells, beating Of mridangam, drums. chanting of Mahamantra by the devotees in unison with the classical instruments reverberated in the air. During the Mahaabishek the Deity Of Mahaprubhu glistened with great splendor as devotees showered flowers.
Later delicious Mahaprsadam which consisted Of many varieties Of foodstuff and sweets were distributed to everyone Who participated in the festivities.
The devotees gleefully breaking the shackles Of color, creed, region, caste, country and submerged themselves together into an ocean Of eternal bliss and joy.