Malsar Yatra by ISKCON Vadodara on 14.Feb.2021
After a long time due to Corona, it was a very pleasing trip for us to get the association of devotees and spend a whole day with devotees.
We started on a bus from the Vadodara ISKCON temple around 6:00 a.m. in the morning where all devotees gathered for our trip to Malsar.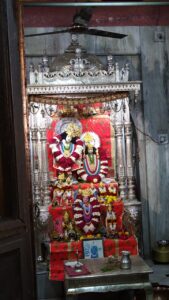 Malsar is located near Narmada, approximately 50 km from Vadodara, Gujarat, India. After an hour we had stopped in a Gurukula which was on the way to Malsar for breakfast prasadam. We were carrying prasadam along with us from Vadodara. After having breakfast prasadam we continued our journey to Malsar.
Around 9:00 a.m. we reached Malsar and then we went to an aashram doing kirtan which we had already booked for that day. After reaching aashram we continued the Kirtan and after 20 minutes or so HG Damodara Chaitanaya Prabhu gave a lecture. Then after a short break after the first lecture, 2nd lecture was taken by HG Vijay Krishna Prabhu. Thereafter, few children recited shlokas. After that, we went to the temple for darshan of Sri Satya Narayan Bhagavan. It is a very old temple.
Devotees performed melodious Kirtan in the temple premises. It is said that Sri Chaitanya Mahaprabhu had visited this place during his Bharat yatra. Twentyfour hours "Akhand kirtan" of Hare Krishna maha-mantra is going on in that temple by local villagers. Later devotees reached Narmada Maiya for snan (bath). Kirtan continued on the way. After reaching Ghat some devotees took bath and others did just aachmana. After half, an hour or so devotees went back to aashram for lunch prasadam. Then devotees took some rest, some were chanting their rounds.
In the afternoon HG Shyam Chandra Prabhu has sung Vaisnava songs and gave explanations.  After that, we did sankirtan in the streets of Malsar and then went back to our bus for Vadodara. We reached back to Vadodara around 5:30 p.m. and had darshan of Sri Sri Radha Shyamsundar, Sri Sri Gaur Nitai and Sri Sri Jagannath Baldev Subhadra and came back home.
You can watch the video at the given link for glimpse of the trip.
Thank you so much.
Hare Krsna.
Your Servant,
Padmanayana Krsna Dasa