By Amrta Madhava Dasa as told to Gautam Saha
Although born in Odisha, the land of Lord Jagannatha, I had never understood the science behind the worship of Jagannatha. I got married in 1976, and my wife got a set of deities of Jagannatha, Baladeva and Subhadra to our home. Several years later, when I met ISKCON devotees, I started chanting Hare Krsna and took to Jagannatha worship seriously.
It was May 2007. I was working as a senior consultant ENT at Tata Motors Hospital, Jamshedpur. My daughter was married only seven days earlier. Every morning at 6 am, we perform mangala-arati at home — I sing the Gurvastakam prayers and my wife does the arati.
Then I rush to the hospital to reach by 8 am.
An Unusual Experience
One day, I was singing in the usual way. Suddenly I saw Lord Jagannatha looking at me with his big eyes. Two powerful beams of light came out of His eyes, piercing me. The light was so powerful that I was blinded and couldn't look at Him. I turned away while I continued to sing. When I looked at Him again, His eyes were still piercing me. Again and again I looked away, each time hoping that I would have my normal darsana. But He was relentless. Finally I asked myself, is He asking Me to take Him outside? When I looked at Him again fearfully, I had my normal darsana once more. Everything was normal. He was His usual smiling Self.
Hundreds of thoughts passed through my mind. Was I hallucinating? I thought I saw Him clearly looking at me, asking me to take Him outside. After the mangala-arati, I told my wife to be ready in the evening to go to the Gaudiya Matha's Radha Govinda temple at Jamshedpur. I rushed to the hospital. In the evening we went to Gaudiya Matha and met His Holiness Nyasi Maharaja and consulted him in this matter. He said, "It is good to do something for God. If you want to do Ratha-yatra for Lord Jagannatha, go ahead and do it. He will be happy and He will help you. Make a small chariot. Don't make a big one."
Happily we returned home. I told my wife what had happened in the morning. She became excited and cried, thinking of the mercy of Lord Jagannatha. We thought that since we are ISKCON members, we have to take permission from them as well. I called His Grace Gauracandra Prabhu, who was in charge of namahatta at Mayapur, and informed him about our desire to perform Ratha-yatra at Jamshedpur.
He said that it is a difficult job. You are new devotees. Why take the trouble? He also said, "We don't have much manpower to help you. We send devotees to Kolkota Ratha-yatra, Siliguri Ratha-yatra and also Mayapur Ratha-yatra. You want to do the Ratha-yatra on the same day as the one in Puri. I can send you two devotees at the most. Make a small chariot." I thanked him. Finally we were happy as we were really all set to prepare for our own Lord Jagannatha Rathayatra.
Cart, Set and Go 
Jamshedpur is an industrial city where people from all states of India reside. But there were no ISKCON devotees to help us. I have attended Ratha-yatra many times. Ratha-yatra was only a month away. How was I to construct the ratha? Where would I keep it for one whole year for the next Ratha-yatra? I decided to make a small ratha and fix tricycle wheels. This would solve our purpose. But there were no devotees living nearby. Who will join our Ratha-yatra? Lord Jagannatha has ordered us to do the Ratha-yatra. He wants to go outside. If no one joins, I will pull the ratha myself. My wife would walk ahead ringing the bell. We are going to celebrate our own Ratha-yatra, come what may.
Next evening, I went to the market in search of wheels for the ratha. I saw different cycle wheels, but did not like any. Someone suggested, why don't you make a thela (pushcart)? I went to thela manufacturing shop, but could not accept that Lord Jagannatha will travel on a thela. I returned home and sat down in the puja room. With a chalk in my hand I drew a square two-feet-by-two-feet and told my wife that this will be the size of the base of ratha. Our deities are small and they can sit comfortably. She thought awhile and asked where she could keep her arati thali and bhoga for offering. I increased the size to three-feet-by-three feet. She was satisfied. But "If other devotees get bhoga offering for Jagannatha, where shall I keep it?" she asked. I realized the problem, and so I increased the base size to four-feet-by-four feet. I said this is final. But Lord Jagannatha is the Lord of the Universe. When we finally completed designing the ratha, the height was fourteen feet and width of was eight-by-eight feet square! All by His desire.
To solve the problem of storing the ratha, I decided to make all the attachments detachable, using nuts and bolts. I talked with the fabricator with a sketch drawn by me and he started off. We had only 25 days left for the Ratha-yatra. Every day I used to sit with the fabricator and progress was fast. For the wheel I managed 8 castor wheels which are used in hospital trolleys, and which can rotate 360 degrees. I thought of fitting 2 wheels on each side of the ratha. When the time came for fitting the wheels, the fabricator said that he did not have expertise to fit such wheels. I met my engineer friend who is like my elder brother, one Mr. Satpathy. After seeing all the assembled parts, he also said that wheel fitting is a specialized job and he would send someone he knew, to do it.
Next day the wheel fixing expert Mr. Rao, arrived with his assistant. After seeing the castor wheels which rotate by 360 degrees, they smiled and told me that the ratha will not run on such wheels. If there is an obstruction, the momentum of the ratha will make it topple forward. I panicked. They asked me not to worry and said they will be back soon. They came after two days with two wheels, one foot in diameter. They explained that this ratha will run on the principle of a bullock cart. They sat down the whole day with the fabricator and the wheel fitting was completed. I requested them to take their fees and the cost of the wheels. But they just smiled and left.
I met Nyasi Maharaja of Radha Govinda temple in the interim. He asked about the progress of the ratha. He asked, "Do you have people to sing Kirtana during Ratha-yatra?" I said no, because only two persons were going to come from Mayapur.
"Don't worry I will make arrangements," he assured me. In the mean time, my wife, along with a few neighboring friends, made some dry prasada for distribution. She also stitched the cover for the ratha at home. I was in constant touch with Mayapur. Our siksa guru, His Grace Ujjvala Nilamani Prabhu, said he will be coming and said not to worry.
About a week before the Ratha-yatra, my wife went alone to Pipili near Puri to get things needed for the Ratha-yatra. She bought a huge stock. She had an upper berth in the train. The materials occupied the whole seat. She was mentally prepared to sit on a corner of the lower berth the whole night. But by Lord Jagannatha's mercy, no passenger occupied the lower berth, and she slept all the way. The day before Ratha-yatra, the iron frame of the ratha was ready. We pushed and brought the frame of ratha near our apartment. It started raining heavily. I panicked. If it rains like this, how we will do the Rathayatra? I prayed all night and could not sleep.
The R-day Arrives 
The devotees from Mayapur were supposed to reach by train at 9.30 pm. But they missed the train. They reached at 1 am. To my surprise, eight devotees had come. By Lord Jagannatha's mercy, one Devesh Prabhu who had just alighted from a plane and was going to Mayapur, also came. We received them with arati and garlands. There were two pujaries, two singers, two cooks, and two dancers who could dance for hours. The rain stopped at 9 am, and soon everyone became busy in decorating the ratha, which was resplendent at eight feet wide and fourteen feet tall.
I went to Radha Govinda temple to bring the devotees Maharaja had invited for Ratha-yatra. Forty Vaisnava devotees came with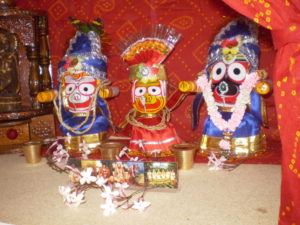 more than eleven mrdangas. Sankirtana was started by devotees of Gaudiya Matha. Nyasi Maharaja and Haridasa Prabhu arrived. Nitai Prabhu and Atmananda Prabhu from ISKCON then started the sankirtana. The bhajanas were so melodious that everyone was spellbound. After bhoga-arati, maha-prasada was distributed to all. Lord Jagannatha rested.
The Ratha-yatra started at 4 pm. Nearly 300 people from the neighbourhood participated. Devesh Prabhu was a vastu expert at ISKCON. He decorated the Deities and performed all the puja rituals on the ratha. He predicted that this Ratha-yatra will grow from strength to strength. And it grew every year. Our first attempt itself was a grand success. By the mercy of Lord Jagannatha, we were able to fulfil His order, and had the intense pleasure of serving Him. The people of the locality had darsana of Lord Jagannatha on the ratha for the first time. It was all due to the boundless mercy of Lord Jagannatha, the Lord of the Universe.
Amrta Madhava Dasa, a disciple of His Holiness Jayapataka Swami Maharaja, is a retired cosmetic surgeon who was working with Tata Motors Hospital in Jamshedpur, West Bengal. His house was acting as the unofficial ISKCON centre until 2016, when ISKCON officially took over the centre. He has also served as the personal doctor for Jayapataka Swami. Currently, he stays in Bangalore, spending his time preaching Krsna consciousness and designing dresses for deities. Gautam Saha graduated in chemical engineering from IIT
Mumbai and has a diploma in Export Management. He was CEO of the Indo-Angola Chamber of Commerce and Industry. He has frequently contributed articles and poems to BTG.
Source: BTG, April 2020