Preface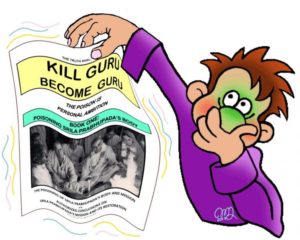 Those who have been disturbed by the allegations that His Divine Grace A.C. Bhaktivedanta Swami might have been poisoned by some of his top disciples will find solace in this rebuttal.  If this paper gives any individual relief from the hailstorm of sloppy research, prejudicial conclusions, and any of the mendacious evidence, then I will consider the time and effort I made to swim in this veritable "cesspool" of a subject worthwhile. If at the end, you are one of those individuals who would like to identify yourself, I would appreciate knowing that I helped clarify this matter for you.   I am not going to apologize for the length of this rebuttal because it is trivial in comparison to the avalanche of poison propaganda that is being unloaded like trash from a garbage truck upon innocent devotees worldwide:
Someone Has Poisoned Me (SHPM) 408Pages

Judge For Yourself (JFY) 123

KILL GURU BECOME GURU PART 1(54:25 Min Video) https://www.youtube.com/watch?v=PIBqNBMbPvY&t=2655s

Kill Guru Become Guru Part 1(KGBG) 828 PDF Pages

Kill Guru Become Guru Part 2(KGBG2) ? Pages

Kill Guru Become Guru Part 3(KGBG3) ? Pages

CRIME OF THE MILLENIUM: (31.19 Min Video)   ttps://www.youtube.com/watch?v=IMuUqqZDqTQ

Total 1359 + Pages & 85.44 min Video with more irrelevant scathing vitriol promised to come!
There is probably much more material than this which I am unaware of, but all of it is more of the same.  What I will show in this study is that all of it is irrelevant, tangential, unsubstantiated and dramatically enhanced to support a sardonic imagination buttressed up by the worst of all possible interpretation of events.   While the volume of material has the patina of "Evidence", it's not much more than the rambling fantasies of those obsessed with a dolus agenda.  Virtually none of what makes up the volume of this so-called evidence would ever stand up to the scrutiny of a courtroom which is why it will never find its way into a courtroom despite all the bravado and posturing otherwise.[...] read more