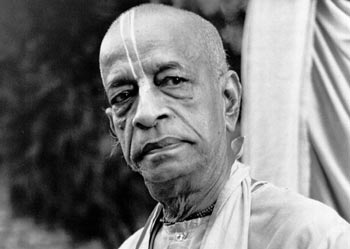 Pradyumna: (reading) "The basic principle of the living condition is that we have a general propensity to love someone. No one can live without loving someone else. This propensity is present in every living being. Even an animal like a tiger has this loving propensity, at least in a dormant stage, and it is certainly present in the human beings. The missing point, however, is where to repose our love so that everyone can become happy. At the present moment, the human society teaches one to love his country or family or his personal self, but there is no information where to repose the loving propensity so that everyone can become happy. That missing point is Krsna, and the Nectar of Devotion teaches us how to stimulate our original love for Krsna and how to be situated in that position where we can enjoy our blissful life. In the primary stage, a child loves his parents, then his brothers and sisters, and as he daily grows up, he begins to love his family, society, community, country, nation, or even the whole human society. But the loving propensity is not satisfied, even by loving all human society. That loving propensity remains imperfectly fulfilled until we know who is the Supreme Beloved. Our love can be fully satisfied only when it is reposed in Krsna. This…"
Prabhupada: There is a nice example in this connection. In the pond, reservoir of water, if you drop one stone, it becomes a circle. The circle increases, increasing, increasing… Unless it comes to the shore, the circle increases. Similarly, our loving propensity increases. In the primary stage, a child whatever he gets, he puts into his mouth. Anna-brahman. Then gradually, as the child grows, sometimes he distributes to his other brother or parents, the love increases. In this way, self-centered, then family-centered, then community-centered, society-centered, nation-centered, international centered… So this increase of our loving propensity will not be satisfied unless it reaches the Supreme Personality of Godhead. That is the Krsna consciousness movement. We love. The loving propensity is there. Even we have no family… Sometimes we keep pets, cats and dogs, to love. So we are, by nature we used to love somebody else. So that somebody else is Krsna. Actually, we want to love Krsna, but without information of Krsna, without Krsna consciousness, our loving propensity is limited. Within certain circle. Therefore we are not satisfied. Nitya-siddha krsna-bhakti. That love affair, loving propensity, is eternally existing, to love Krsna. Just like Dhruva Maharaja, when he met the Supreme Personality of Godhead, he became fully satisfied. Svamin krtartho 'smi varam na yace [Cc. Madhya 22.42].
In the material world field, we love somebody for getting something in return. That is not love, pure love. Pure love is different. Pure love, as it is described by Lord Caitanya, in the, in His mood of Radharani unto Krsna aslisya va pada-ratam pinastu mam marma-hatam karotu va. This is love, Radharani's, that "You either embrace Me or trample Me down under your feet, neglect Me, or make Me broken-hearted, not being present at any time throughout My life, life after life, it does not matter. Still I love you unconditionally." Mat-prana-nathas tu sa eva naparah. That is real love. And that love is existing in everyone's heart. Nitya-siddha krsna-bhakti. That is not awakened. So by this devotional process, adau sraddha tatah sadhu-sangah, that love… Sadhakanam ayam premnah pradurbhave bhavet kramah [Cc. Madhya 23.14-15]. read more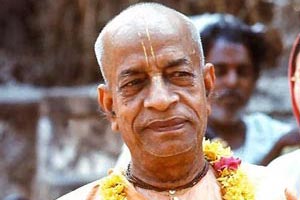 Prabhupada: My dear devotees, ladies and gentlemen, I am very glad to see you again, I think, after four years? Three years. I was trying to come here again -- I like this place -- but due to various engagements and due to my old age also, I could not come earlier.